The Importance Of Knowing How Air Plants Breathe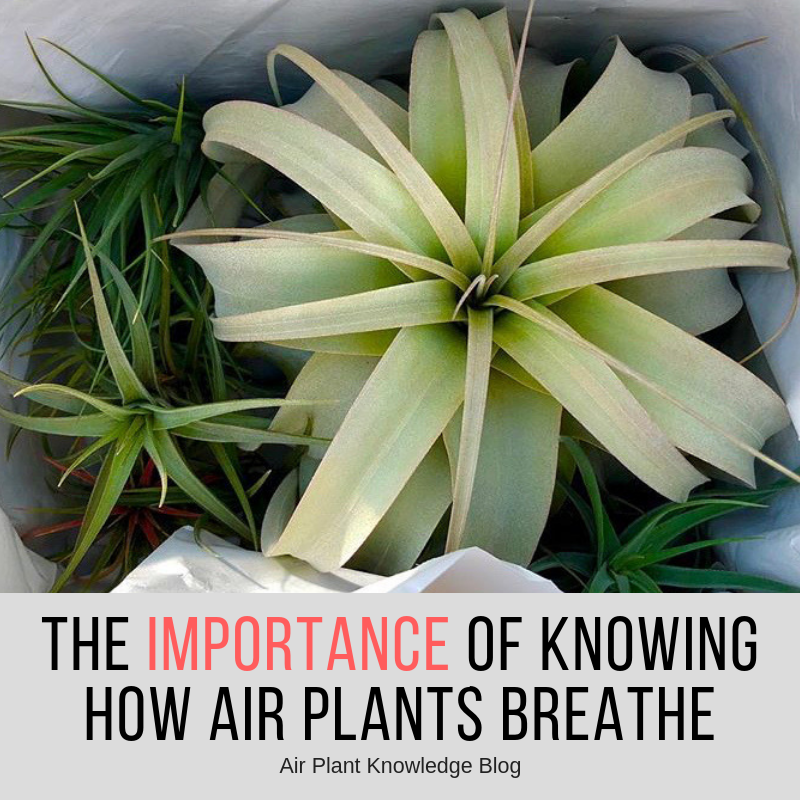 The Importance Of Knowing How Air Plants Breathe: CAM Photosynthesis
Just as humans breathe air by inhaling oxygen and exhaling carbon dioxide, air plants need to exchange gases for survival and growth. While most plants only exchange gases during the daytime, (due to the sunlight's involvement in chemical reactions) air plants are different. Air plants exchange gases (breathe) at night instead of the day. 
Air plants accomplish this nighttime breathing through a fantastic mechanism of photosynthesis called Crassulacean Acid Metabolism, which is more commonly referred to as CAM photosynthesis. This adaptation allows for maximum efficiency of water use and allows Tillandsia to thrive in arid conditions where sometimes nothing else will grow.
CAM photosynthesis is simultaneously simple and genius: plant stomata (the leaf pores which plants breathe through) remain closed during the day, which drastically reduces water loss, and open up at night, allowing gas exchange. Simply put, plants using CAM photosynthesis are "holding their breath" during the daytime, but staying hydrated. At night, carbon dioxide collected by the plant is converted and stored until daylight, when it is reconverted back to carbon dioxide and used during normal photosynthesis.
So what can CAM photosynthesis tell us about Tillandsia Air Plant care? A few things: 1) If you are watering your air plants in the middle of the day or evening, they are not going to be absorbing and storing the water to their fullest potential. 2) It is fine if you occasionally give your plants overnight soaks in water, but do not do it on consecutive days since your plants breathe during the nighttime. 3) If possible, ALWAYS water in the morning. This allows your air plant to fill up on water and hold on to it throughout the day. 
Comment below with any questions! 
__________Article Author___________




J Hamlett, A.S. Horticulture Science 
Tillandsia Enthusiast 
Air Plant Hub Blogger